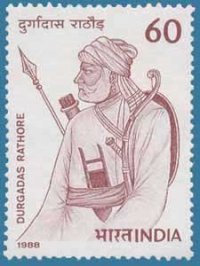 Veer durga Das Rathore was vary brave and famous historical hero. Durgadas Rathore was born in 13 august, 1638. his famous personality in the annals of Marwar. He was the son of Askaran Rathore, a rajput general in the army of Maharaja Jaswant Singh in Jodhpur. Durga Das was a suryavanshi Rajput.
Once he killed camel herd then the maharaja Jaswant singh told durgadas why he killed camel herd, durgadas told the royal herd of camels was giving Jaswant Singh a bad name by destroying the crops of people. The Maharaja was impressed with Durgadas's an appointment in the army.
Maharaja Jaswant Singh of Marwar, died in 1679 when two of his wife's were pregnant at the time of his death. when mughal emperor Aurangzeb, was appointed a Muslim to rule over Marwar, which angry the Rathore clan a great deal. One of Jaswant Singh's pregnant widows gave birth male child, who was named Ajit Singh. durgadas saved his child from Aurangzeb. Durgadas was a very brave man and He was died in 22 November, 1718.
Tags: durga das rathore, durgadas images photo, durgadas songs, veer durgadas rathore
If You Liked, Bookmark It -
del.icio.us
|
Digg it
|
Furl
|
Onlywire
|
reddit
|
StumbleUpon
|
Wink
|
Yahoo MyWeb
|